Our Programme Coordinators have hit the ground running this term with 8 camps already completed. Here's a run down of how they went – first up is Donald:
It's midterm and time for a recap on what's happened so far. My first programme for the year was Tarawera High Schools Citizenship programme in Ohope. Staying at the beautiful Ohope marae, students engaged in three days of critically thinking around how they want to lead the school and what they want their next steps to be. It was a full on few days of sharing and exploring ideas. We finished with a new addition to the programme, surfing! It was the perfect way to finish off the week as a group.
Then it was off to Melville High Schools Citizenship programme in Raglan. Similar to Tarawera, this programme focused on setting up the year 13s for success in their final year of school, as well as looking at ways they can contribute back to the school culture. They also tried their hand at a new activity this year, with students going canyoning with Raglan Rock. It was an awesome experience to solidify our conversations about helping each other to succeed.
After a quick rest, it was time for the Ngaruawahia High School programme. Now this programme is something very special. Not only does it involve all students and staff, but it also immerses students in their local environment. That means that we had 4 full days of building relationships, exploring the Hakarimata range, cycling the te awa cycleway, learning to paddle waka and building rafts on the river. Then to top that all off, other than a bit of organising and crowd control by staff, all the activities were delivered by Year 12 and 13 leaders. They took ownership of the sessions and kept the juniors engaged the whole time.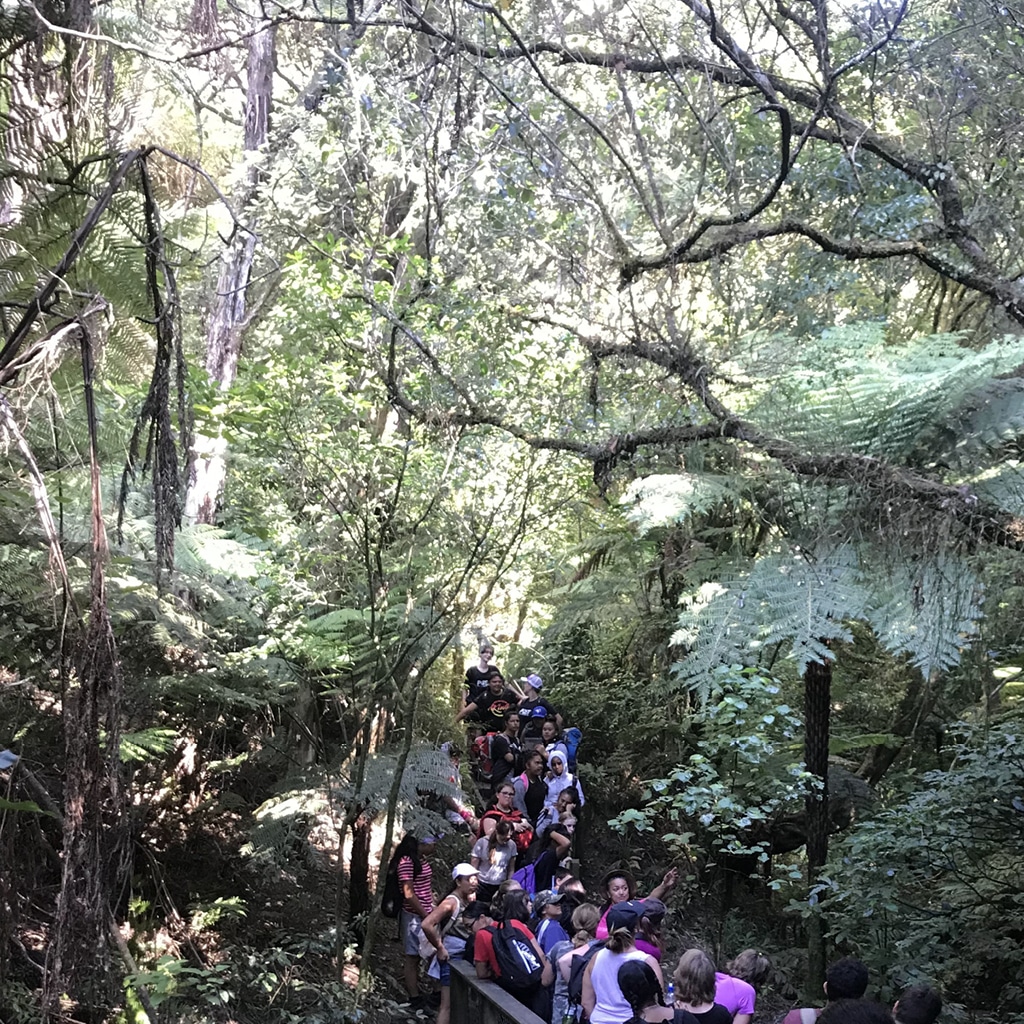 The latest programme to go out, was the Tarawera High School year 9 programme on Lake Okataina. The students kayaked and built rafts on the lake. They made ropes out of harakeke and maps of the local out of leaf litter. They found south using the stars and glow worms. They got stuck into camp and made it their own. It was great to see.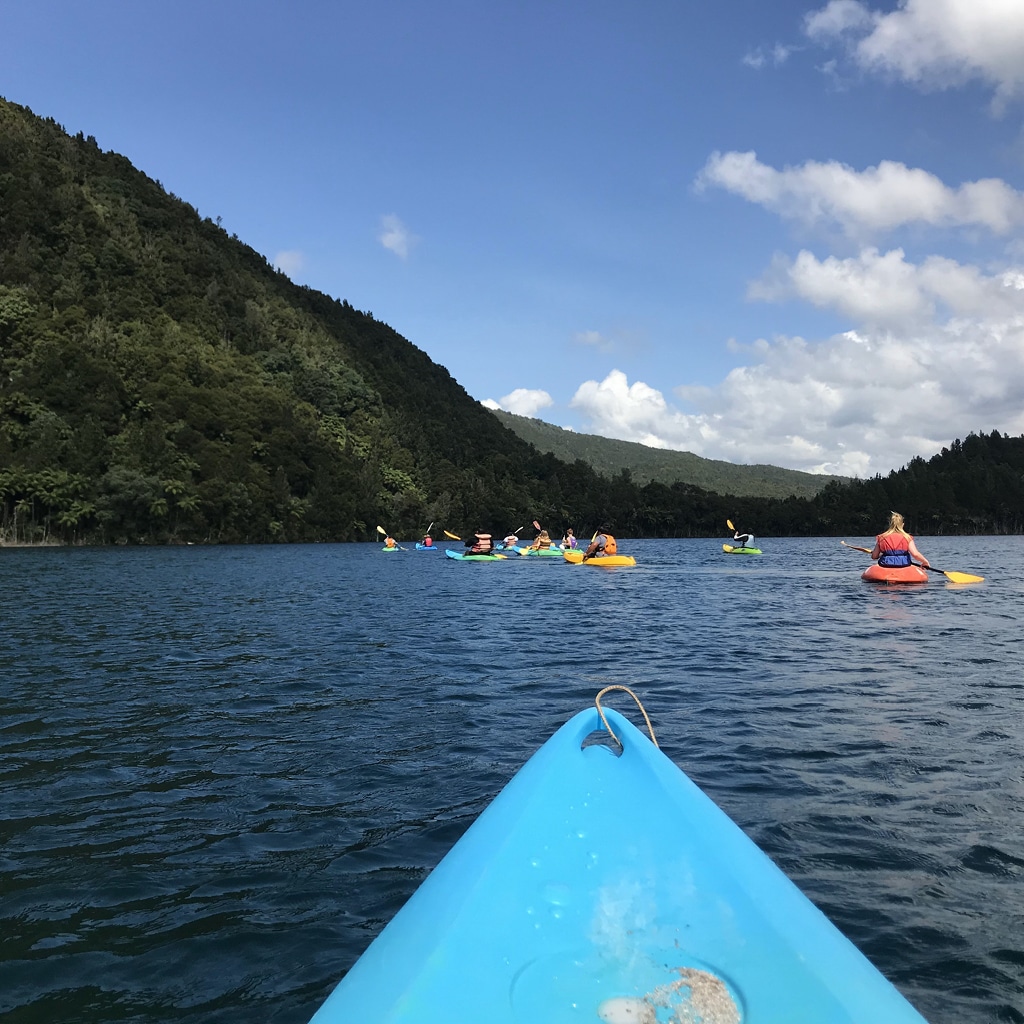 So it has been a hectic start to the year and that is just the way we like it. Because being busy means that young people are out and about learning in the natural environment and building strong relationships. And that is what it is all about.
And now, Gemma:
Its been a very different term one in 2019. Usually by now I would have been away on 6-8 camps, but this year only 4, and they've clashed in terms of dates. Hence only Forest View High School and Te Kauwhata College have run their Y13 and Y9 camps so far.
Y13 camps were held at Mangakino and Kauaeranga Valley and focused on outdoor activities that build citizenship values and actions. I'm not sure if the mining for treasure in a knee deep bog for treasure as part of the Amazing race was a highlight for TKC Y13 students or the staff watching! Pride in building and surviving the night in a group bivvy I think was a highlight for them – perhaps not the most fun but for some the most challenging. The late evening check in by staff , to the horror of some, was not the come and get us to take us back to our nice soft bunks that some thought it was. FVHS Y13s enjoyed their group challenges- synchronised swimming, no bake dessert making, kayaking and mountain biking. Sessions with their Deans looking forward to their year ahead and what they could achieve was a good way to energise the Dean/student relationship.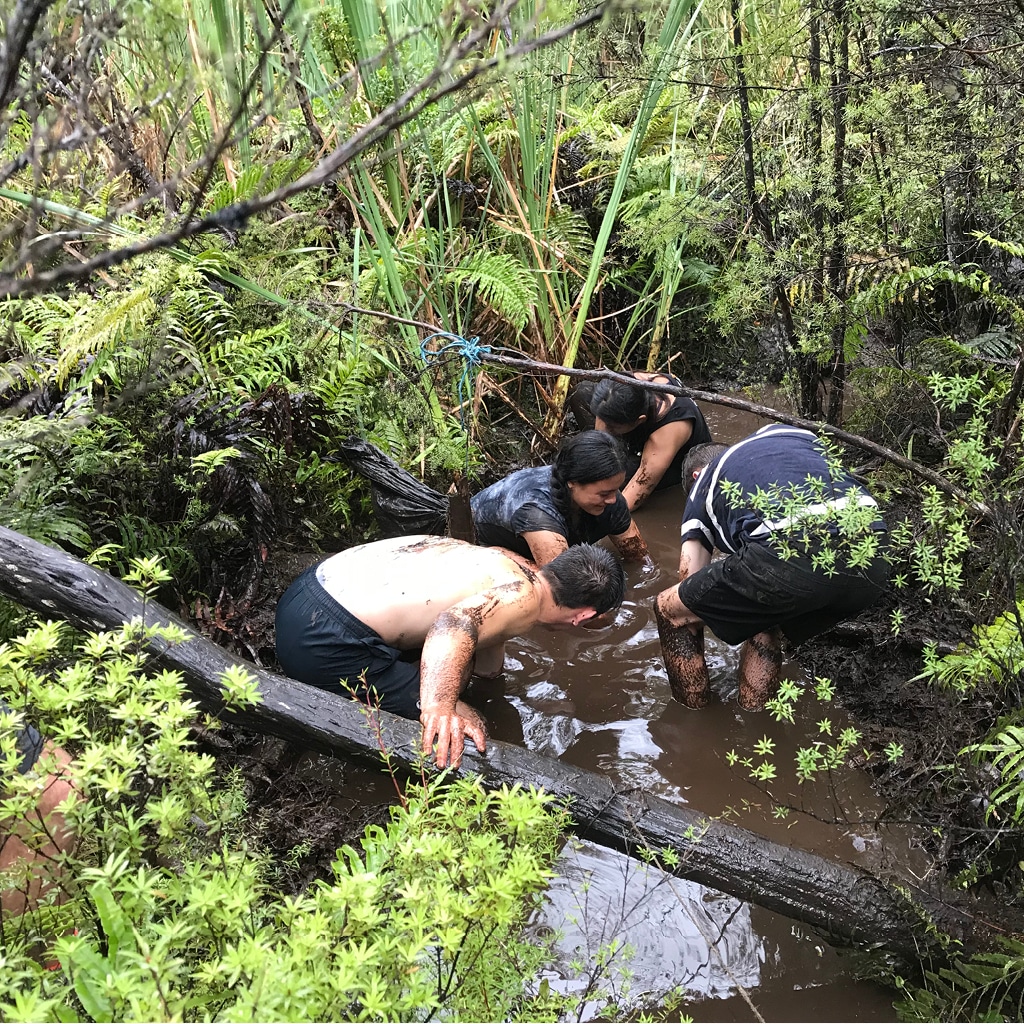 Y9 camps were held at Pauanui and Raglan. Opposite coasts but both had a strong water safety education component and sessions related to Science, Social Science, English and Art. Highlights for both schools were the learning to jump/bomb/swing safely into deep water from a height. Walks up Mt Pauanui and to Bridal Veil Falls were a challenge for many. Walking up Mt Pauanui 4 times in two days was a challenge for staff! Watching students get to know each other, their leaders/mentors and their teachers was a highlight for me. A couple of activities bringing to life 250 years since Captain Cook's journey and first encounters with Maori was a new twist and great in terms of being place responsive. Thanks to Jonny Rickard for his storytelling at Raglan and Angela/Jared for their session on re-enacting and filming parts of Cook's 1769 journey.