To support our work we run an annual fundraiser – the NZ Mountain Film Festival.  It's a collection of the best short films from the Wanaka event and this year was our fifth time hosting the event in Hamilton. We were all set for the night of the 12th August; our event was sold out with 267 people expected to attend the evening at the Hoyts Metro in Hamilton.  However, Covid threw us a curve-ball and without warning on the 11th of August it was announced that from 12 noon Wednesday the 12th (the day of our event) we would be in level 2 – which meant no gatherings of over 100 people.  It was too late to do anything other than postpone the event and offer a full refund to anyone who wanted one.
So what do you do when faced with the possibility of a covid cancel for your main fundraiser? With our Board's support we decided that we would step up and work out how we could run a safe event at level 2, in a responsible way, whilst adhering to all restrictions. We wanted to share some of our tips for organising an event that can help you to be flexible and adaptable when faced with a similar challenge:
Have a Solid Plan
We worked closely with our venue, Metro Hoyts Hamilton and their very capable Manager. Together we created a plan that ensured the event could be carried out safely, responsibly and could be approved by Hoyts management in Australia.
Pre-record Sponsor Messages
We are fortunate to have a very supportive main event sponsor – Lodge Hamilton, and along with our other supporters we wanted to acknowledge them on the evening. In previous years, one of our Trustees has stood at the front of the theatre and spoken prior to the films starting; with staggered start times and numerous movie theatres used for the event this year it was simply not practical. We were relieved that we had already arranged for PlayCreative to film a welcome video, including a message from Lodge Hamilton and the logos of our sponsors – it was simply played before the movies started, easy!
Pre-plan spot prizes
Everyone loves a prize! Each year a number of our generous sponsors and supporters donate spot prizes for our event. At our last event we used a raffle system to draw out ticket numbers live on the evening. This year we added numbers to the back of selected programmes that corresponded to a pre-numbered prize on a table in the cinema foyer – so no communication or extra contact was required to award or collect prizes.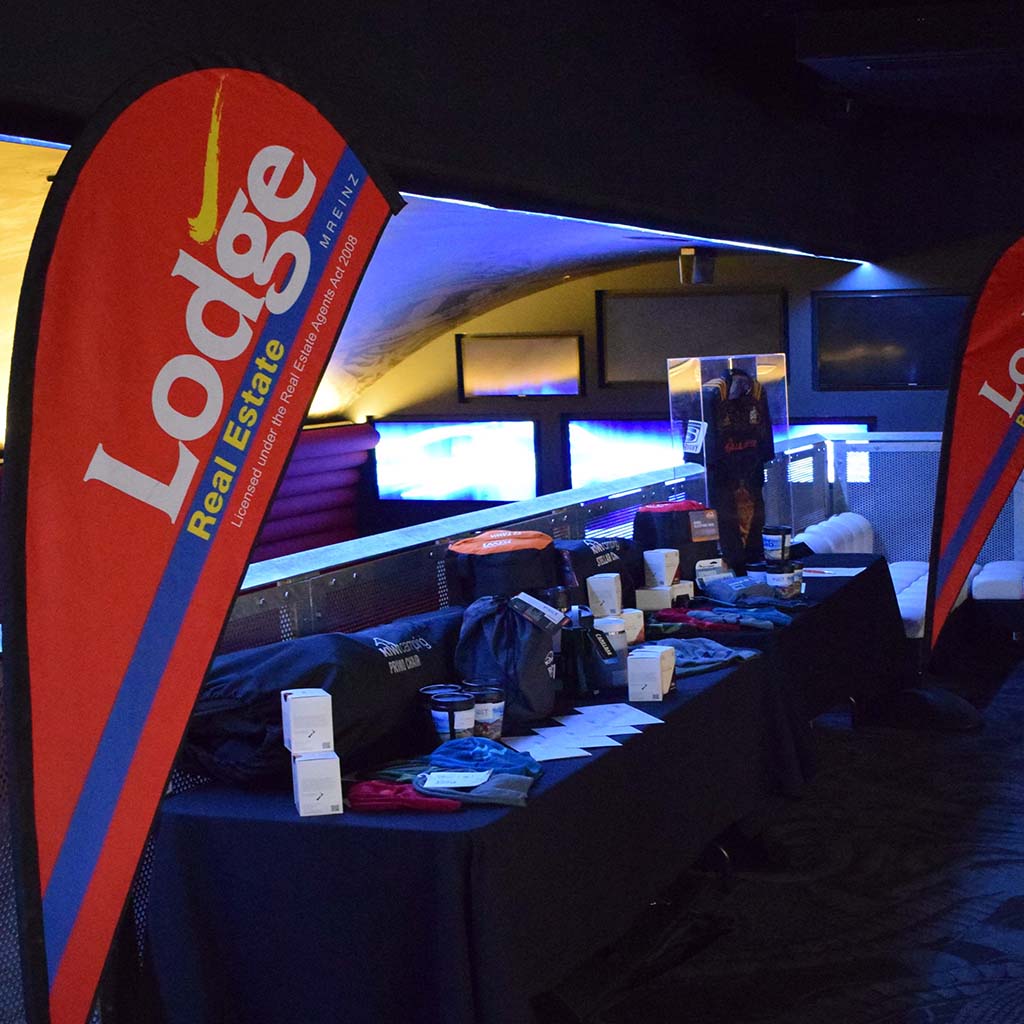 Online Ticketing Platform
We used Eventbrite for all of our ticketing for the event – it enabled us to collect the contact details of everyone attending the event, allowing for communication and contact tracing. It's a very user-friendly platform that easily enables re-allocation of tickets and automatic refunds. No physical tickets are necessary – this enables a contactless option for people arriving at the event as you can scan the tickets in using your phone.
Solid Communication Channels
We kept everyone updated via our facebook page, instagram and direct email (the database from Eventbrite was invaluable for this). We also found it's essential to have a main contact that people can get in touch with if they have any questions, requests or concerns.
Stagger Entry Times
We wanted to make sure that people could enjoy themselves so we asked for attendees to indicate if they were part of a group or were bringing kids so we could give as many people as possible their preferred start time from the three on offer. This meant that people who had bought tickets separately were able to attend together where possible.  Staggered start times enabled us to strictly control the numbers for each session and have full contact tracing records for all. The venue was closed to the public – doors were opened for a particular time slot, closed to the next time slot to enable foyer to be cleared and surfaces cleaned prior to the arrival of the next group.
Spare Masks on Hand
We communicated with all our attendees that masks should be worn and nearly everyone arrived already wearing one – but we had masks on hand just in case for anyone who forgot!
Give Refunds
We reiterated the full refund option for anyone who didn't like rules, anyone who was anxious about Covid or just couldn't make it to the new date – it's important to be supportive of those who wish or do not wish to attend the event. That said we were overwhelmed by support from the public – we refunded a handful of tickets but sold more for the new night.
It took a bit of organising, but there is nothing about the event that was so hard as to make it impossible.  We need to look at how we adjust our actions so we can make things happen and not default to can't or won't – we hope these tips help you make your event happen too!